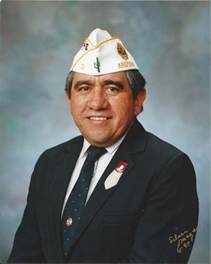 Top of Form
Bottom of Form
Robert "Uncle Bob" Anthony Reyes, a resident of Flagstaff, Arizona passed away peacefully on December 31, 2018.
Bob was preceded in death by his parents Bernardino and Assumption and his brother Ramon. Bob is survived by his sisters and brothers Rosie Gallegos (Daniel), Cecilia Navarro, Ralph Reyes (Melba), Richard Reyes (Jackie), Vickie Reyes, Christine Carrillo (Fabian), Mary "Nena" Chavez, Theresa "Terri" Quinlan and 16 nieces, 23 nephews, 32 great nieces, 36 great nephews, 13 great-great nieces and 12 great-great nephews that all loved him dearly. In addition, he will be remembered by many veterans and advocates in both Flagstaff and Arizona.
Bob was a proud graduate of Flagstaff High School in 1964. Bob served with the US Navy from November 1965 through October 1971. After the service, he continued on with the American Legion Post 3. As a faithful man, Bob was a devoted Catholic parishioner to the San Francisco de ASIS Parish here in Flagstaff and an active member of the Knights of Columbus, as well as an advocate of the Special Olympics. From volunteering and raising funds or even watching the games, Bob helped out whenever and wherever he could. As a life member of the American Legion, Bob was a main advocate of veterans and their affairs. Bob was an integral part of the American Legion for so many years. Bob was an instrumental part in the starting up of the American Legion Baseball and Softball teams, developing the first American Legion Vietnam Veteran Committee and providing the representation of the Honor Guard at all veteran funerals. Bob was one of the people who pushed for the traveling Vietnam Wall to be placed in Wheeler Park so many years ago. Bob also conducted the ceremonies and flag placement for all veterans within the cemeteries for Memorial Day. Bob also made sure that the Honor Gold Star families from Flagstaff were recognized during these services. On a state level with the American Legion, Bob was a past State Commander of the American Legion, a chairman of the Children and Youth Committee, on the Board of Directors of the Oratorical Committee and a member of the legislature of Arizona Boys State District 1. Bob was very humble when it came to the things he did and didn't expect praise for any of these contributions, but the lives he touched were priceless. Bob was able to do many things for many people that the list could go on forever.
After the passing of his mother in 1991, Bob moved in with his sister Terri and her children Sarah, Jason, Jennifer, Michael and Michelle to assist with the care of his own father. Bob was much more than just an uncle to all of them. Bob did so much to teach them and even more recently, teach their own children about life and the real world.
In the fall of 2014, Bob retired from the American Legion as the Post Adjutant and turned his focus to spending time outdoors. After retirement, he was able to enjoy the other aspects of life, specifically, with his family and friends.
Always willing to assist those who served and the remembrance of those who had fallen, Bobby made it a priority to NEVER FORGET.
Services will be held Wednesday, January 9, 2019 at Our Lady of Guadalupe Catholic Church in Flagstaff. The rosary is at 9:30 am and Mass follows at 10:30 with the burial services concluding at the Citizen's Cemetery. A reception will be held at The American Legion Post 3. Memories and condolences can be shared with the family directly or online at www.norvelowensmortuary.com.
https://azdailysun.com/news/local/obituaries/robert-anthony-reyes/article_7b9140c4-102a-11e9-a588-0319d6bb844c.html?utm_medium=social&utm_source=email&utm_campaign=user-share